03/2020: Event cancelled due to Covid-19 -virus situation in Finland.
3D & New Materials is professional event for 3D printing and new materials
Discover the newest 3D ideas, materials and industrial innovations. In the new 3D & New Materials ­event, you can see the entire printing process from the design work to the finished product and find the newest material solutions for manufacturing industry. The themes include design, manufacturing services, device suppliers and technologies, research and education, and materials.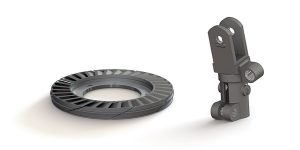 You can find Huld from stand nr. D100. Come to visit and see parts we've designed to our customers!
Opening hours
Wednesday 18.03.2020 9:00-17:00
Thursday 19.03.2020 9:00-16:00
Read more from the event's website.
Have you ever used or thought about using Additive Manufacturing possibilities?
Share your questions and views by participating in our AM -survey. We will make a report about Additive Manufacturing in Finland based on the survey results and answer the most asked questions. The report will be shared to all survey participants. We will also raffle a workshop and 8 hours design work for Additive Manufacturing among all the respondents (worth 1000€). Leave your contact details below and you will receive a survey link later.