Huld was tasked with redesigning the Theta Flex tensiometer by instrumentation company Biolin Scientific. The objective was to come out with a new model that would be better positioned to compete in the market and add value for customers. The newly designed Theta Flex ended up winning its category in the Red Dot design competition.
By using the new Theta Flex, Biolin Scientific's customers are able to produce higher-quality finishes for their products, thus making them more durable.
"We wanted to redesign the device from the ground up. We wanted a product that could compete better in the market and bring more value for our customers", says Jyrki Korpela, Global Product Manager for Biolin Scientific.
Huld's vision paid off
With the Theta Flex being one of Biolin Scientific's main products, the redesign involved a lot of details to consider. According to Korpela, Huld was presented with a big challenge in adhering to the new design guidelines to come up with a model of what the device would look like. Huld, however, rose to this challenge.
"Huld gave us a vision for implementing our design and pointed out various considerations in making the device easier to use", Korpela says. "We began by providing Huld with an outline of what we wanted. After about a month, they delivered their concepts and we chose which way to go. Realizing the design took about a year", Korpela adds.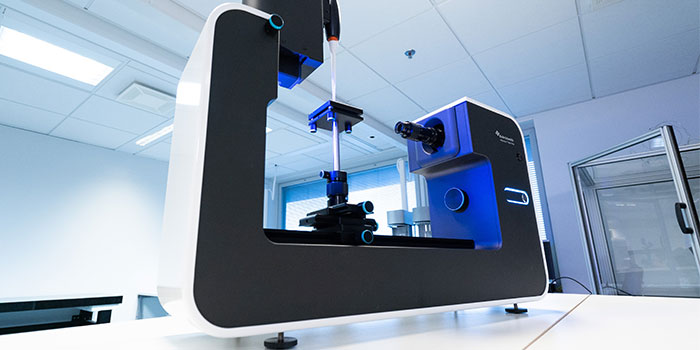 The new Theta Flex won international recognition
Biolin Scientific was very pleased with the final design and the new Theta Flex – so much so, in fact, that they decided to enter it into the international Red Dot design competition where a jury assessed it for its usability and overall quality.
"We ended up winning our category and the award for Best of the Best", says a delighted Korpela.
"There's been an uptick in sales and increasing interest in the product. It has been easier to market, and we are now better positioned overall", says Korpela in summary.