Huld Oy receives Red Dot Award: Product Design Best of the Best
Huld Oy industrial designers together with Biolin Scientific's product designers receives Red Dot Award: Product Design Best of the Best for ground-breaking design quality
Theta Flex wins the Red Dot Award Product Design Best of the Best, the highest distinction, for its ground-breaking design. This scientific equipment, designed by Huld Oy's and Biolin Scientific's design teams is the winner in the world's most renowned design competition.
Theta Flex – the winning design
Theta Flex is an optical surface science instrument that is used for academic and industrial research and quality control. The highlighted design values are Science, Progress Together and Nordic.
True to the motto "In search of good design and innovation", only the best designs receive an award. Just 1.2% of the objects entered received a Red Dot: Best of the Best.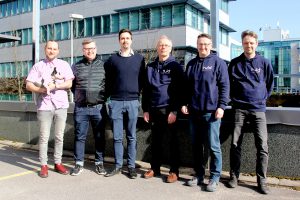 Huld Oy's designers in winning team are Ville Nenonen, Sami Kukkonen and Hannu Havusto.  Biolin Scientific's designers are Matti Franssila, Kim Sundström and Jyrki Korpela.
For more information on the award, see www.red-dot.de or contact Hannu Havusto:
Biolin's press release: https://news.cision.com/biolin-scientific/r/attension-theta-flex-from-biolin-scientific-receives-red-dot–best-of-the-best-for-ground-breaking-d,c3083472