Winners Revealed for Design Award 2023 Competition!
We are thrilled to unveil the winners of the highly anticipated Design Award 2023 competition!
Competition has been up and running throughout the spring season. Participants have showcased their exceptional creativity and ingenuity. The culmination took place yesterday at the prestigious award seminar, where the head of the jury, Hannu Havusto (Design Manager at Huld), and jury member Visa Rauta (Head of Design at KONE), expressed their delight at the outstanding quality and profound insights presented by the participating teams.
After careful deliberation, the jury has made their decision, and we proudly present the Design Award 2023 winners:
1st Prize: "Latu" by Heikki-Veikko Lämsä, Emil Aukusti Mäenpää & Markus Salmi
2nd Prize: "LYS" by Hanna Voßgätter genannt Robusch & Alicia Hammerich
3rd Prize: "Leni" by Lilja Nikkilä & Birgitta Jalkanen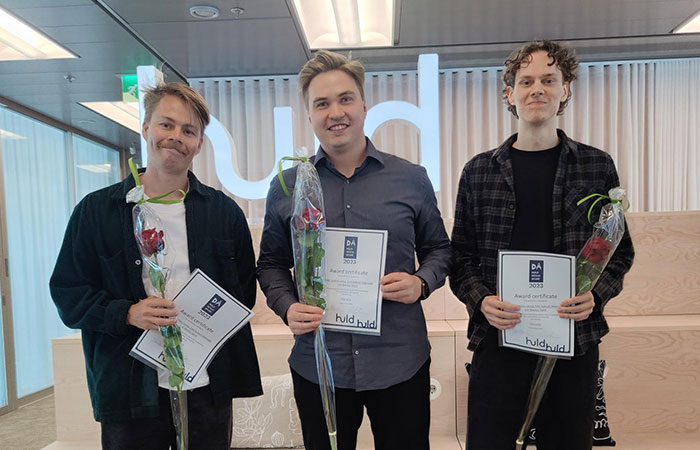 In addition to these remarkable achievements, the jury would also like to extend honorable mentions to several exceptional teams whose contributions stood out among the rest:
"Kone Smart Garage" by Jouni Karsikas
"Beyond Cool Park" by Hanna Härkönen
"Escalight" by Marek Ševčík
We wholeheartedly congratulate all the winners for their remarkable accomplishments! We extend our gratitude to all participants for their invaluable contributions to the Design Award 2023 competition.
What Design Award?
Huld Design Award is a competition for finding new product or service ideas that focuses on users and their needs. The competition is for design students, our talents of tomorrow. By organizing this competition, we want to support students and promote the value of design. Both are the key in changing the world for the better. This year, Design Award's key focus was on making people's everyday life easier.
To bring the competition alive, we partnered with KONE. With the mission to improve the flow of urban life, KONE designs next-generation physical + digital products and services and aims to inspire urban dwellers with engaging people flow experiences. We have been collaborating closely for over 10 years in multiple areas of engineering, technology, and innovation. We share the same passion for designing a world beyond tomorrow.