Electric vehicles are becoming more and more popular, which also increases the demand for electric car charging solutions. Ensto One, an electric car charging solution directed to housing cooperatives and individual households, was developed to meet the growing demand for charging vehicles at home. Huld's experts helped Ensto to develop software, electronics and a mobile control application called Charger Control for their charging stations.
Ensto has a long experience of electric car charging solutions. With ever growing demand, Ensto wanted to produce a safe, easy-to-use and fast charging solution for housing cooperatives and individual households. In order to match both functionality and costs with market needs, Ensto wanted to develop a solution of its own.
"At Ensto, we have been developing solutions for electric car charging infrastructure already for ten or so years. Ensto One is our new solution for both housing cooperatives and individual households. When designing Ensto One, special attention was paid to creating a product that was of high quality and easy to use, yet very reasonable in terms of cost. This would not have been possible to achieve without cooperation with Huld's experts", says Atte Mäittälä, who leads Product Development at Ensto.
Experts at Ensto and Huld had already early in the project clear visions of reasonable and cost-effective ways to implement the charging solution. Huld's experts wanted to make the solution as simple and cost-effective as possible while simultaneously keeping all essential functionalities and maintaining the product's high quality.
"Huld wants to take part in creating solutions for the future. Ensto's electric car charging solutions truly make a difference in the future of electric propulsion," says Timo Latvala, director of Huld's intelligent devices business unit.
With mobile application, charging devices can be adjusted for different needs – for example by restricting maximum current
The Ensto One charging solution is easy to use thanks to the mobile application Ensto Charger Control made by Huld's experts. This easy-to-use application can be used for example to adjust maximum allowed electrical current, or to change settings on charging devices and to customize operating selections.
Thanks to the application, it is easy and fast to start a charge. Two different options are available for user control: free and authenticated use. When in "authenticated" mode, it is possible to start the charge only with a smart phone paired with Ensto One Home. This makes it safe to store the charging device outdoors.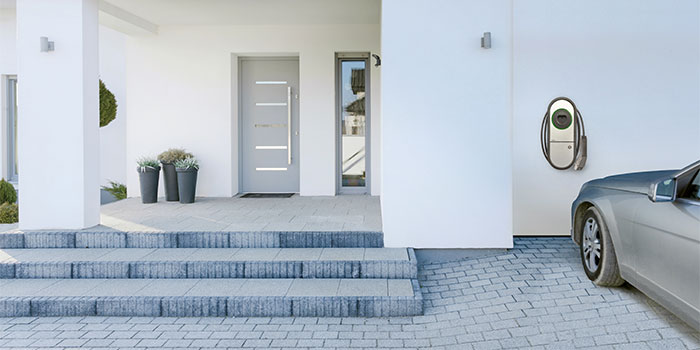 Charging Device Software Produces Data for EV Manager
EV Manager is a software available for Ensto users. It can offer several functionalities for both housing cooperatives and individual households. When creating the charging station software, Huld's experts looked at different use cases and determined how they affected EV Manager and its functions. The idea was to make sure that all needed data is transferred between softwares also in exceptional situations.
Thanks to the charging solution software, mobile application and EV Manager, it is easy to manage chargers in common use. With this comprehensive solution, housing cooperatives can manage functionalities that are important to them and have control over their chargers and their users. It is also easy and effective to produce reports on individual usage.
Watch this video for more information about the product:
Photos and video by Ensto.