Lokotrack® Urban™  mobile jaw crushers are noise and dust encapsulated crushing machines that comply with stricter regulations and allow crushing and screening in cities, urban environments and other populated areas.
Metso Minerals helps its customers to improve production efficiency and profitability and to minimize production risks and disadvantages. The product family Lokotrack® Urban™ will revolutionize crushing in urban areas, like city centres. Huld has participated in the encapsulation design that significantly lowers the noise and dust in the crushing process.
"Huld's experts gave a professional insight in the noise encapsulation design, especially what comes to the plastic parts of the door structures. Along with the design concept, we have also received a lot of other development ideas that make our products better for our clients", comments Metso's Industrial Design Lead, Tuomas Tuokko.
Our collaboration with Huld is open and bases on trust.
LT96 Urban reduces crushing's dust and noise harms
Metso Minerals wanted to develop an Urban option of their Lokotrack product family that enables crushing also in urban areas. Receiving an environmental permit for urban areas is often challenging for Metso's customers. The noise caused by the crushing plays often a key role when applying for such a permit. Generally, a level of 85 dB(A) is the most commonly defined limit that requires ear protection, however even lower levels can cause disturbance to people living close to crushing sites. For environmental noise, the limit is set at 55 dB(A).
Lokotrack Urban Series mobile crushing plants use a unique noise encapsulation feature to cut the noise protection distance in hard-rock applications by 50-60% compared to conventional crushers.
In addition to low noise levels, Lokotrack Urban provides an efficient dust encapsulation system. The dust remains inside the device due to the enclosure structure and high pressure water injection.
Advantages
Even 60% smaller 85 dB(A) noise distance
Significantly lower noise around the crusher
Less environmental dust
Easier access to environmental permit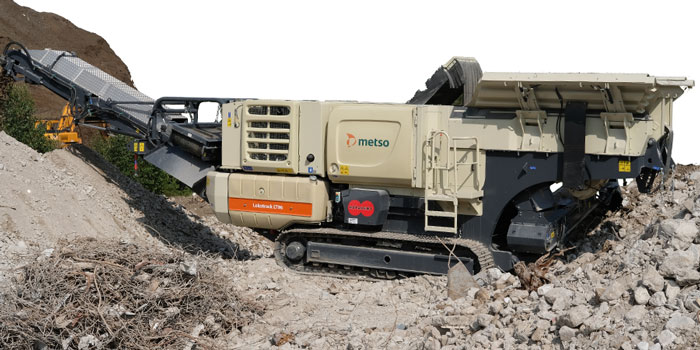 Huld supports in the product development of the noise encapsulation
Huld has supported the first noise encapsulation prototype already in year 2011. Huld's experts' experience and manufacturing know-how has added value to the project in its many phases. The close partnership with Metso has continued from the prototyping to the product development and manufacturing in this long-term development project.
In the beginning, the solution was resembling a noise shelter; but the prototype proved itself. Finding the commercial solutions took several years, but it was already clear that it was possible to reduce the crushing noise. The noise encapsulation solution was patented, and the first generation Lokotrack Urban LT106 was presented in Conexpo, Las Vegas in February 2017.
Huld has participated in further development of the design concept. The goal was, in addition to more efficient noise encapsulation, to reach ease of transportation, user friendliness, and to facilitate manufacturing in the product line. The first plastic door structure of Lokotrack Urban LT106 has been manufactured in autumn 2017.
In 2018, the Lokotrack Urban LT96 project was kicked off. At that time, several other improvements were made to the product. Huld was responsible of the design project and manufacturing support. The product has been presented in Bauma in 2019.
Metso Minerals has long-term trust in Huld's experts
"Our collaboration with Huld is open and bases on trust. Huld's design team is committed and flexible, which plays a key role in finding good solutions in challenging situations", comments Juhamatti Heikkilä, Lokotrack Urban Product Safety Manager at Metso Minerals.